District News
Women's History Month Events 2021
Mar 2, 2021

It's Women's History Month, and stories honoring women are front and center across New York City and the Upper West Side. We've highlighted some upcoming events below which you can also find in our Events Calendar.
Every March, Goddard Riverside's Community Arts program hosts an exciting month-long arts festival celebrating female artists and perspectives for Women's History Month. Now in its sixth year, the Women's History Artist Month festival — WHAM — showcases a wide range of local independent artists and helps raise vital funding for the Performing Arts Conservatory. Click here to view WHAM's website and all of the upcoming festival events. Each event has a suggested donation price for attendees.
The Metropolitan Opera is celebrating the start of Women's History Month with a week of free nightly opera streams that shine a spotlight on trailblazing American artists who made or are making important contributions both onstage and off. Click here to explore articles and resources that discuss women in opera, profiles on opera stars, and more that complement the streams, which you can also find at the bottom of the page. Click here for a brief guide to each free opera streaming from Monday, March 1 – Sunday, March 7.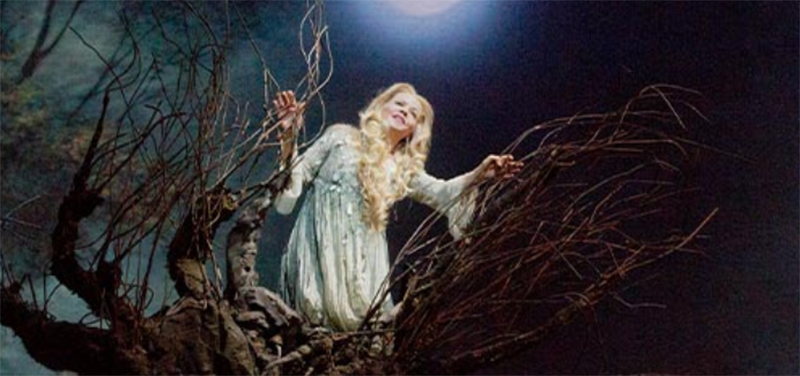 Renee Fleming in Rusalka via the Metropolitan Opera
Also, join producer Rob Rapley in a free livestreamed talk about his PBS documentary Voice of Freedom (2021). Voice of Freedom is about Marian Anderson, an American contralto who was the first African American to sing a lead role at the Metropolitan Opera. The event will take place on Tuesday, March 2 at 7:00pm. Voice of Freedom will be streaming on PBS and the PBS app through March 31, 2021.
Explore the monuments of Central Park influenced by and dedicated to the contributions of historic women with the Urban Park Rangers. Along this outdoor, socially-distant and free tour, participants will learn about the newest monument of Central Park, a historic statue honoring the work of famed suffragists Sojourner Truth, Susan B. Anthony, and Elizabeth Cady Stanton (pictured in main article image). To ensure fair, limited attendance with safety in mind, participants will be chosen by lottery, which you can enter through the Urban Park Rangers registration page on Wednesday, March 3. Click here for more details. Also, click here for a list of other Parks Department events commemorating women's history.
Join Library staff from the New York Public Library system for a number of free virtual events honoring Women's History Month in many fun ways. On Wednesday, March 3 at noon, hop into a virtual trivia game on the topic of Women's History Month—register in advance for the link. The trivia series continues weekly on Wednesdays with new topics, each continuing to focus on Women, and book recommendations too. There's another opportunity for trivia on Tuesday, March 23 at 2:00pm, which will also focus on Women's History Month. On Wednesday, March 24 at noon, register for The Women's Bureau: 100 Years of Research and Advocacy for Working Women, a virtual discussion that addresses the history of working women, the current economic climate, and the policies that can help women improve their economic security. There are also a number of events for teens and children, like the Women's History Month Urban Stages series and Women's History Month Jeopardy for kids. Click here to browse related events for March at NYPL online.
Landmark West! will host two virtual Zoom discussions based around the lives of two remarkable women in New York City. On Wednesday, March 10 at 6:00pm, learn about the untold life story of Mary Louise Booth, a suffragist/abolitionist respected in the world of literature and publishing. Tickets are $6-$10. Then, on Wednesday, March 17 at 6:00pm, tune into a free virtual tour of the buildings of New York City that Ada Louise Huxtable, a renowned pioneer in architectural criticism, both praised and decried in her efforts to promote a livable city. Click here to view the Landmark West! Events Calendar.
There are a few events coming up online at the New York Historical Society which honor women's history. On Friday, March 19 at 1:00pm, tune into a free virtual conference on Women's History titled Breaking News, Breaking Barriers: Women in American Journalism, which will feature a mix of pre-recorded keynote conversations and live panels held via Zoom and will cover the complex history of women in journalism. On Tuesday, March 23 at 5:00pm, join a live, virtual journey through history with Museum docents or curators who will walk participants through a slideshow of objects and imagery focused on 200 years of the women's Activism. Women March will take place via Zoom and tickets are $10—learn more here. Plus, the Historical Society has a year-round page of exhibition information, archives, and more dedicated to Women's History which you can browse here.
Women activists with signs for registration, 1956 via The Smithsonian Museum - from New York Historical Society's Women March event

The Apollo's 5th annual WOW (Women of the World) Festival is an entirely digital, two-day program on Saturday, March 20 and Sunday, March 21 of dynamic conversations, workshops, and performances for and by women and girls from around the world. This year's theme, Black Women Transcending will mark this particular moment in time as we continue to endure a global pandemic and navigate the current political climate in the U.S., while simultaneously balancing self-care, family, community and work. More than 80 women are scheduled to participate. Click here to learn more about the festival. Festival passes are $17.55.
Also, if you're interested in learning more about prominent female figures in New York City's history, check out NYC & Company's guide to The Women Who Made NYC History.
These are just a few activities and events surrounding Women's History Month, and not an exhaustive list. Check in with our Events Calendar for more events as we find them!
Photo credit: NYC Parks Department