Founded in 1996 by local, visionary property owners, businesses and not-for-profit institutions, the Lincoln Square Business Improvement District (BID) is a 501(c)3 not-for-profit that improves the quality of life in Lincoln Square, a world-famous cosmopolitan area on Manhattan's Upper West Side, and the cultural and entertainment heart of the City. The BID's mission is to make Lincoln Square cleaner, safer, and more beautiful, and to undertake various improvement projects. We focus our efforts on supplemental sanitation and security services; the beautification of public spaces, malls, and parks; and the promotion and marketing of the area's diverse business and cultural offerings. The Lincoln Square BID acts as a catalyst, working with business, community, and city partners, to promote positive change in Lincoln Square. Our programs and initiatives are designed to showcase the rich and varied resources of this vibrant Upper West Side neighborhood and although there are no major live performances, our cultural organizations have developed rich digital programming that we promote. During the pandemic we have modified our activities to respond to the crisis, but we have not lost sight of our core mission.
The Lincoln Square BID is a public-private partnership governed by a Board of Directors and derives its revenue from an annual assessment on all real property located within the boundaries of the BID. Members of the BID include property owners, businesses, hotels, restaurants, retailers, cultural and non-profit institutions, public officials and residents. As a steward of the neighborhood, the BID ensures curbs and sidewalks are clean and safe, public spaces are lushly planted, and that our dynamic marketing efforts put Lincoln Square in the spotlight.
As the neighborhood that is home to Lincoln Center for the Performing Arts, the world's largest performing arts center, we have felt the impact of COVID-19 perhaps more than other neighborhoods. Our theaters are all dark, and our sidewalks, usually crowded with pedestrians and patrons of the arts are less crowded.
Three hundred and sixty-five days a year, the BID plays a number of vital roles in its district acting as neighborhood planner, caretaker, problem solver, marketer, and promoter of economic development. To help maintain the neighborhood's liveliness, the BID contracts the well-trained members of its Clean Team, and all of its Public Safety Officers (PSOs), to supplement the City's sanitation, maintenance and public safety services. The BID and its Public Safety Officers address daily quality-of-life issues such as homelessness, unlicensed vendors and uncollected trash. Since COVID-19, this also includes monitoring changes in pedestrian traffic and business operations. The BID also communicates with City agencies reporting issues that range from dangerous intersections that need restriping to potholes.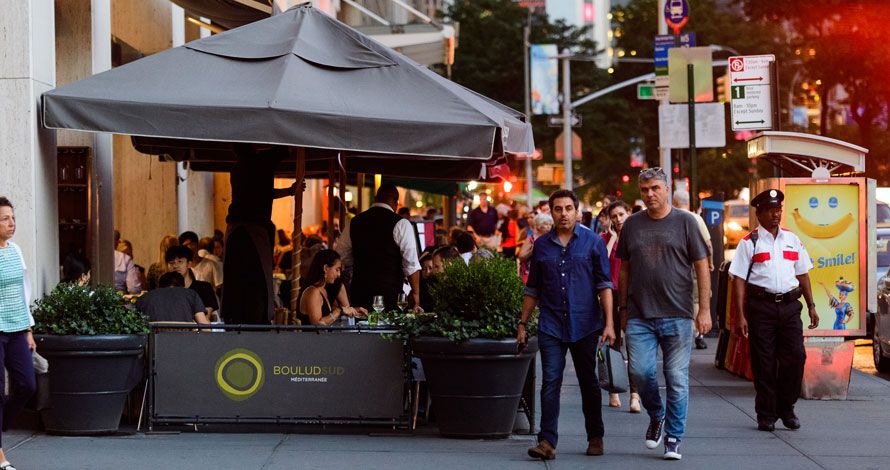 In Lincoln Square's public spaces and Broadway Mall gardens, the BID celebrates nature's most delightful seasonal changes with beautiful cultivars. Its parks, planters and Broadway Malls from 60th – 70th Street make chameleon-like changes from brilliant panoramas of bold tulips to sweeps of sunny wildflowers to evergreen shrubs and lighted spirit figures during the holidays.
In its marketing role, the BID invites the public to sample the pleasures of Lincoln Square – diverse and stylish shopping and dining venues, as well as the world's finest music, opera and dance performances. This year brought many of the neighborhood's offerings to a halt and our cultural institutions remain dark, but we have pivoted to the new virtual landscape, supporting Lincoln Square's best to a wide online audience through an up-to-date Events Calendar, weekly e-newsletter, and enhanced social media efforts. Our online event's calendar is filled with digital music and dance performances and updated daily. The BID's Information Carts, pretty much empty during COVID-19, usually offer a number of publications on the City's and our neighborhood's retail, cuisine, and cultural amenities. In years past, with the arrival of summer, audiences headed to Richard Tucker Park every Wednesday afternoon during July and August for the BID's Free Lunchtime Concert Series. Due to COVID-19 we will not be offering these concerts, but from time to time there are pop-up musical ensembles that remind us of what we love.
Lincoln Square has also offered an exciting 20-year run of the BID's holiday event – Winter's Eve at Lincoln Square, which earned the reputation as New York's largest holiday festival. More than 25,000 revelers attended this outdoor event annually, which included the Upper West Side's only tree lighting ceremony at Dante Park. This signature celebration has been canceled due to COVID-19. This event was full of free musical performances, fun family activities, and delicious fare from local restaurants, along with other fabulous entertainment all evening.
Since we were unable to gather for our annual holiday celebration due to COVID-19, the BID commissioned Linnaea Tillett, founder and principal of Tillett Lighting Design Associates, along with her brother, Seth Tillett, to create a temporary lighting installation in the ten Broadway Malls between Columbus Circle and 70th Street that converges in Dante Park where a celestial projection focused on the towering statue of Dante. Tumbling Brights, a procession of ten ethereal figures illuminated the Broadway Malls from November 2020 through February 2021 and are symbols of hope, resilience, and community solidarity. Click here to read more about the special holiday lighting installation.This installation will continue to be a part of the BID's holiday initiatives.
The BID's unwavering commitment to the area is likewise evident in its continued strive for progress. For instance, the BID spent many years working towards improving the district's two parks, Dante Park and Richard Tucker Park, by submitting new designs and advocating for renovations; these parks are now beautifully rejuvenated and maintained by the BID. The BID has also worked closely with DOT and Lincoln Square stakeholders to address safety concerns at the 65th Street bowtie, between Broadway and Columbus Avenue, which has resulted in expanded park area, new crosswalks, an extension of the Columbus Avenue Bike Lane, and other pedestrian safety improvements. Similarly, the BID worked with DOT in early 2020 to address faded crosswalks in the district that needed re-striping, and received massive granite blocks from DOT to make Dante Park safer for pedestrians who sit at the BID's movable tables and chairs.