Craving something, but not sure what it is? The BID has the answer: Come to Lincoln Square. Find it all in the City's most accomplished neighborhood. On and beyond Broadway and Columbus Avenue awaits a world of stellar live performances, tuned-in shopping venues and a bewitchingly diverse array of food.
Though things are different now with the ongoing COVID-19 crisis, the Lincoln Square BID typically dives in and organizes events that appeal to every interest, every palate and every age. In the heat of summer and the brisk air of winter, the Lincoln Square BID keeps the good times rolling with interactive and free events for all (this year's events were canceled due to the pandemic). In the spotlight are Lincoln Square's diverse retail scene, storied cultural arts, acclaimed museums and celebrated academic and non-profit institutions.

The Link to Lincoln Square, our email newsletter, is published weekly and sent to approximately 5,000 subscribers. Its purpose is to consistently connect and inform the public about what's happening in Lincoln Square and important updates from the city. Find out what's new, who's here, who's making news, and learn about special offers for Lincoln Square insiders. Want to promote your event or special offer in our eblast? Contact us at info@lincolnsquarebid.org.
Fun to Find in Lincoln Square and Beyond
Looking for something to do? Check out our Events Calendar with events ranging from the Metropolitan Opera at Lincoln Center to community workshops hosted by City Council Members. You'll find great events for kids, music lovers, and everyone else! And, even during the COVID-19 crisis, we pivoted our Events Calendar to feature a wide range of virtual events to enjoy safe from home. Click here to jump to the calendar.
Holidays in Lincoln Square
During the holiday season in 2021, the BID brought back a holiday tree to Dante Park (Broadway & 64th Street), and hosted pop-up performances in front of the tree in an effort to bring extra cheer to the neighborhood, celebrating the holidays and community resilience. The programming, Holidays in Lincoln Square, began with a tree lighting ceremony in Dante Park when both the tree and Tumbling Brights figures were officially lit for the holidays. The 30' Concolor Fir from Upstate NY featured a number of community sourced ornaments, including star-shaped ornaments designed by families and children at Lincoln Square's local small business and pottery studio, Color Me Mine Upper West Side, ballet pointe shoes that were donated by the New York City Ballet, and iridescent stars from the American Folk Art Museum.
Following the tree lighting ceremony, we hosted a month-long, weekly series of pop-up performances in front of the hoiday tree in Dante Park with a rotating line-up of local performers every Wednesday in December. Click here for photos from Holidays in Lincoln Square.
Winter's Eve at Lincoln Square
The official count tells us that 25,000 holiday celebrants, among them repeat revelers and newcomers, came together each year for the BID's annual Winter's Eve at Lincoln Square. The City's largest free holiday festival, Winter's Eve enjoyed a 20-year run before COVID-19, spanning up and down Broadway from Columbus Circle to 70th Street, indoors and out, with an extravaganza of good cheer, palate-tickling food, action-packed activities and a heady range of live music and entertainment.
Each year, the event's popularity grew and received over 300 million media impressions in its last year thanks to the work of our publicist and major media outlets, including longtime sponsors WABC-TV and WNET. Since its launch in 2000, Winter's Eve hosted world-renowned talent with performances by Ronnie Spector and The Ronettes, Arlo Guthrie and the Guthrie Family, Micky Dolenz, the voice of The Monkees, Judy Collins, Suzanne Vega, Billy Porter, Tom Chapin and The Chaplin Family, The Bacon Brothers, John Pizzarelli, Laurie Berkner, Odetta, Richie Havens, Lea Salonga, Dan Zanes, Laura Benanti, Justin Guarini, Mayors Bloomberg and Koch, The Met Opera, and many others.
The event hosted dozens of family activities in the stores, public spaces and along the sidewalks from Columbus Circle northwards to 70th Street, and offered special discounts and free gifts from retailers, too. Revelers were able to enjoy dance companies and performing street theater, chill out to jazz performances, and watch the Lincoln Square and Upper West Side's holiday tree light up. Three outdoor food-tasting venues highlighted delicious food from over 30 of Lincoln Square's best restaurants and eateries. There were also stages built in each park—Richard Tucker and Dante—for more amazing and free live music. The generous participants of Winter's Eve include 100 neighborhood businesses (national and local), and Lincoln Square's cultural and civic organizations.
We are uncertain as to whether we will be able to bring back this special celebration moving forward, but we are nonetheless proud of the impact this neighborhood tradition has had on our community. Share in the warmth, visit our website winterseve.nyc for a look back at the 20th Anniversary and our Flickr for photos from years past.
In late 2020, due to the COVID-19 pandemic preventing us from producing Winter's Eve, the BID commissioned a holiday lighting installation in the ten Broadway Malls between Columbus Circle and 70th Street that converged in Dante Park called Tumbling Brights. This installation is a procession of ten ethereal figures illuminated the Broadway Malls from December through February. Click here to read more about the special holiday lighting installation. This installation now continues to be part of our annual holiday lighting program.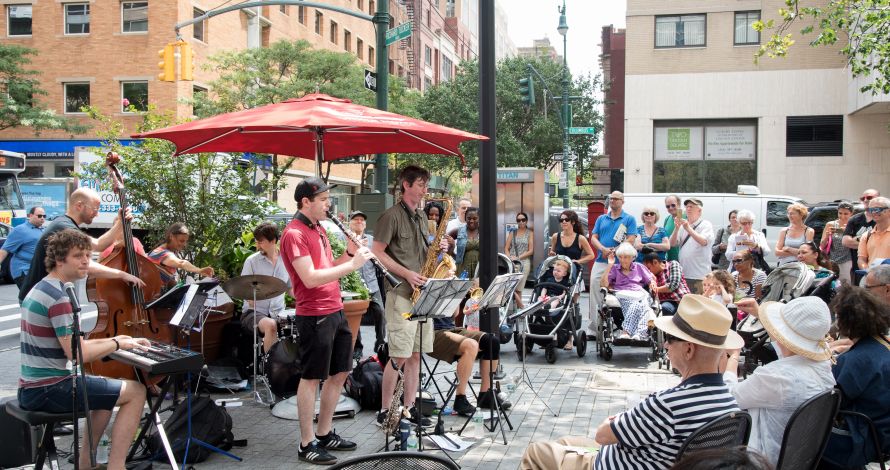 Lincoln Square's Free Lunchtime Concerts
The Free Lunchtime Concerts have been canceled due to the COVID-19 pandemic.
Take a late-summer break in the shade of Richard Tucker Park and relax at Lincoln Square's Free Lunchtime Concerts in partnership with the MTA's MUSIC program and supported by TD Bank, the concerts are held every Wednesday, in July and August from noon until 2:00pm. All ages gather, often clapping and dancing to exciting programs encompassing genres ranging from rhythm and blues, high-energy jazz standards, classical, funk, swing, world music and more. Between music sets, participate in yoga and restorative stretch sessions from instructors from the West Side Y.
Official Lincoln Square Map & Guide
Is a terrific neighborhood resource– regularly updated and revised– that makes sure you can find all the amenities in Lincoln Square. The attractive folding map is always available at our information carts.
Members Portal
Do you own or manage an area business or cultural institution? Would you like to have increased visibility? If so, sign up for a free account through our Members Portal by clicking here. A free account gives you access to a business listing in our Neighborhood Guide and our Events Calendar.
Hospitality Services
Nothing says welcome to Lincoln Square like the BID's helpful guides.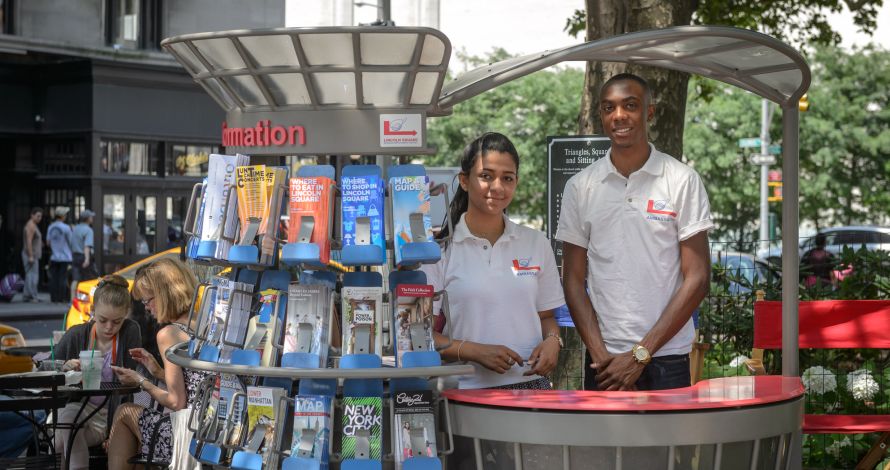 Neighborhood Ambassadors
The BID is the go-to organization for the neighborhood. On a day-to-day basis, the BID's attention to its members is reflected in the actions of our Public Safety Officers who, doubling as Lincoln Square ambassadors, help area guests find a particular restaurant, store, museum, school or entertainment destination. Trust them: the officers can show you the way.
Due to COVID-19, the BID has canceled its summer 2020 Information Ambassador Program. The three information carts remain outside and stocked with material
Neighborhood Information Carts
In addition, all year long, the BID places three colorful information carts in highly visible areas within Lincoln Square: at Columbus Circle, Dante and Richard Tucker Parks. The carts aid tourism and local business by stocking maps, calendars and event listings; not just in Lincoln Square but also throughout the city. Cheerfully staffing the carts in the warmer months are high school students from the Martin Luther King, Jr. Educational Campus, college students and ReServists – retired adults. All are well-trained, knowledgeable ambassadors.
Banners
Stylish graphic banners hang from area lampposts, branding and promoting Lincoln Square. The high-profile banners often announce exciting events such as Winter's Eve at Lincoln Square. Interested in sponsoring a series of banners?
Need more information about our marketing programs? Please call the BID office at (212) 581-3774