Sponsor
The Lincoln Square Business Improvement District prides itself on having Lincoln Center for the Performing Arts, immediate access to Central Park, The Shops at Columbus Circle, fabulous shopping venues and multiple Zagat and Michelin-rated restaurants. Millions of people shop, dine and visit Lincoln Square each year. Aligning your brand with our vibrant, sophisticated and high-traffic neighborhood makes good business sense and demonstrates your civic and district pride. The BID can help you reach Upper West Side residents, international tourists and thousands of employees through several proven sponsorship options.
Donate
Are you an individual or group who loves Lincoln Square and would like to contribute? Why not support Lincoln Square through a tax-deductible gift? Contribute to any of our initiatives by securely DONATING ONLINE HERE. Our online donation portal makes it easy for you to choose a program for your funding and to dedicate your gift in honor of someone. You can also notify us if your employer has a matching gift program. Individual donors supporting Lincoln Square with a $100 donation or more will receive a complimentary one-of-a-kind tote bag made out of recycled street-pole banners. Click here to donate!
Volunteer
Volunteers are needed throughout the year to assist with a variety of projects, including the Lincoln Square Streetscape and Beautification Program and the BID's Annual Meeting. We also need large groups, as well as individual volunteers to help spread holiday cheer at our WinteRamble. If you are interested in volunteering, please call us at 212.581.3774 or click here to contact us.
Sponsorship Opportunities Include:
Lincoln Square's Streetscape and Beautification Program: We plant and maintain 10 Broadway Malls running through the heart of the district, neighborhood planters, and two flowering parks—Dante Park and Richard Tucker Park—with year-round seasonal displays of beautiful flowers and shrubs. Our program remains strong and our landscaping company is out in the district almost daily, performing regular maintenance and watering to keep our displays beautiful. This program, completely supported by sponsorship, is a major community investment that demonstrates neighborhood pride and supports the economic and residential vitality of Lincoln Square.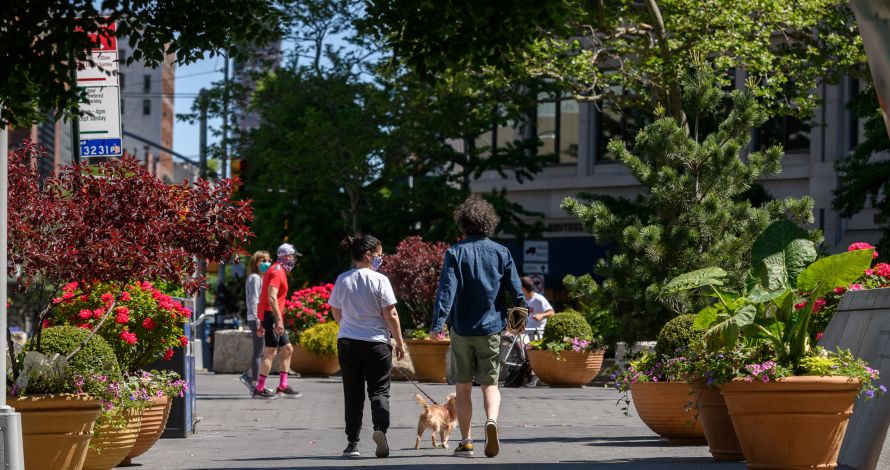 Winter's Eve at Lincoln Square: New York City's largest holiday festival, Winter's Eve drew 25,000 annual attendees for an exciting night of good cheer and free entertainment for the whole family. The event took place annual in either late November or early December in the streets, public spaces and neighborhood venues, ranging from Columbus Circle northward to 70th Street. Winter's Eve was promoted by major media outlets, including longtime sponsor WABC-TV, and studded with star power like Micky Dolenz of the Monkees, folk legend Arlo Guthrie, Ronnie Spector & The Ronettes, Judy Collins, singer-songwriter Suzanne Vega and actor Kevin Bacon and his brother, Michael Bacon. Winter's Eve was a memorable event, but has been cancelled.
Summer Concert Series: Our free Wednesday afternoon summer lunchtime concert series - Summer Jazz Sensations at Dante Park - is a winning way for corporate partners to support the neighborhood and advertise. Talk to us about underwriting one concert… or many!
Lincoln Square Holiday Lighting: From November through January, the BID installs a holiday tree at Dante Park and wraps 2 trees in each of the 10 Broadway Malls between 60th and 70th Street with eye-catching holiday lights, fostering holiday cheer for all who visit, live in, or work in Lincoln Square during this festive season. Sponsoring this program is a cheerful way to help create a special sense of community.
Lincoln Square Banner Program: As a symbol of Lincoln Square's welcoming spirit, the BID designs and hoists eye-catching banners on area light poles. Sponsor logos prominently appear on the bottom portion of the banners.
Special Initiatives: Often the BID coordinates activities outside of our regular seasonal calendar—a community lecture series or a local dining event. These activities need sponsors like you. If you would like to know more about unique underwriting opportunities, please notify us.
Special Publications: The BID produces numerous special publications over the course of the year: E-newsletter (26 issues per year: 5,000+ each edition), Where to Eat in Lincoln Square Guide; Lincoln Square Map and Guide. Each publication offers space for sponsorship and advertisement placement.
Support more than one program and become a District Pride partner with tailored sponsorship packages that meet your organizational goals and objectives. If you're interested in working with us, please call 212.581.3774 or email us at info@lincolnsquarebid.org.