District News
Listen & Learn
Mar 30, 2021
A good way to learn about what interests us, from movies to culture, is to listen to an expert discuss the subject. On that note, we've put together a list of free and low-cost virtual talks and lectures from around the area that will pique a variety of interests.
American Folk Art Museum (2 Lincoln Square): Join the Museum on Thursday, April 1 at 6:00pm, for Virtual Insights: (Re)Turning the Gaze, a free Zoom event where museum curators will host a discussion related to the museum's exhibition, PHOTO|BRUT: Collection Bruno Decharme & Compagnie. Then, on Tuesday, April 20 at 1:00pm, register for Virtual Insights: Antwaun Sargent in Conversation with Horace D. Ballard, a free zoom conversation with author and critic Antwaun Sargent and art historian Horace D. Ballard exploring self-taught Black photographers.
Museum of Arts and Design (2 Columbus Circle): MAD Museum offers an online learning lab full of virtual events. Coming up, register for Glass in Flux: Artists' Roundtable on Wednesday, March 31 at noon and join four US-based artists included in the Glass, Meet the Future Film Festival, as they discuss their current work. Tickets for this Zoom event are $5. The following day, on Thursday, April 1 at 7:00pm, join artists Mia Wright-Ross, MAD 2020 Artist Fellow, and Bill Gaskins for a virtual Artists in Dialogue conversation held in conjunction with Wright-Ross' art installation, A Moment to Breathe, on view through Sunday, April 11. Tickets for this virtual event are $10.
Kaufman Music Center (129 West 67th Street): Enjoy the next event of Broadway Close Up, a virtual lecture-concert hybrid filmed in Merkin Hall, on Monday, April 19 at 7:00pm on the life and music of composer Kay Swift (1897-1993, pictured right). Click here to read more about the event and purchase tickets for $15. The following month, on Monday, May 10 at 7:00pm, tune in to the next installment of this lecture-concert series and learn about John Kander (b.1927) and Fred Ebb (1928-2004) who had one of the longest-running collaborations in the history of show business. Click here to read about this event and purchase tickets for $15.
Film at Lincoln Center (165 West 65th Street): Film at Lincoln Center (FLC) offers free talks that coincide with film screenings throughout the year and since COVID-19 these talks have been virtual. Coming up, is a free talk with Directors Marco Dutra and Caetano Gotardo on their film All the Dead Ones, a female-driven period drama set in Brazil on Wednesday, March 31 at 6:00pm, and then a free talk with Director Martín Rejtman, on Tuesday, April 6 at 6:00pm, on his film Silvia Prieto, a deadpan comedy about a young woman's identity crisis. You can also watch some previous talks with FLC by clicking here.
New Plaza Cinema: This nonprofit film community hosts virtual talks related to an array of films which now take place virtually. Coming up on Sunday, April 7, join film historian Max Alvarez in a presentation of Jazz and Blues on Film where he will discuss pioneering sound musical shorts to periodic features. Click here to RSVP for this $12 virtual event. On Sunday, April 11 at 4:00pm join the founders of Firelight Media for a discussion about their 2019 documentary film, Miles Davis: Birth of the Cool, as part of a celebration of Jazz Appreciation Month. Click here to RSVP to this event with a suggested donation.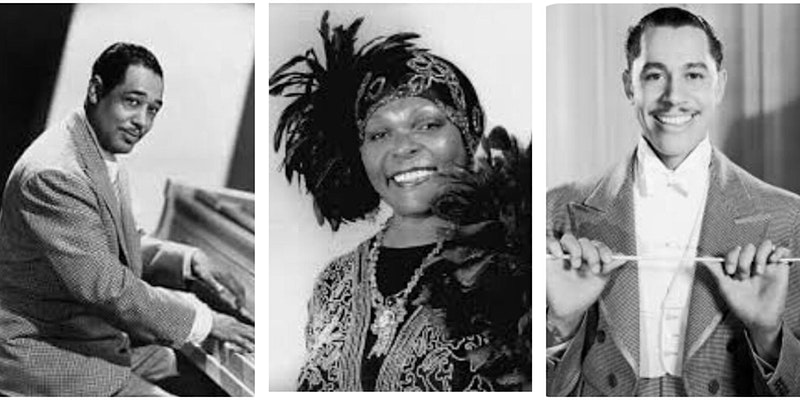 Duke Ellington, Bessie Smith, Cab Calloway
Fordham University (113 West 60th Street): Fordham University has a robust calendar of virtual lectures that are accessible to the public with a donation. Coming up in April, there are virtual lectures on a number of topics, including a lecture on Rethinking the Dilemma of Bombing Auschwitz: Support, Opposition, and Reservation on Wednesday, April 7 at noon; a Centennial Speaker Series on Women in Investment, which begins with part 1 on Thursday, April 8 at 5:30pm; a lecture on Leading in a Diverse Society on Tuesday, April 13 at 5:30pm and many more. Click here to browse through the list of upcoming lectures online with Fordham University.
New York Society for Ethical Culture (2 West 64th Street): Every Sunday at 11:00am, the NY Society for Ethical Culture hosts a free, virtual Sunday Platform. Tune in on April 4 for a talk with Dr. Nori Rost on lessons from the COVID-19 pandemic about creating a new normal. Click here for more details. On April 11, join Ethical Culture member Randy Best in a discussion on how to maintain relationships across the recent political shifts and divides in the US. Click here for more details. Click here to view the organization's calendar of events and discover more virtual discussions.
Enjoy these varied virtual talks, lectures, and discussions around Lincoln Square. Click here to view our Events Calendar for even more events happening around the district and City.
Main photo credit: American Folk Art Museum
Article Photos: Kaufman Music Center, New Plaza Cinema