Culture
Queer Maximalism x Machine Dazzle
Museum of Arts and Design
2 Columbus Circle, New York, NY 10019
(212) 299-7777
https://madmuseum.org/exhibition/queer-maximalism-x-machine-dazzle
Price
Check Website for Tickets
Event Dates
Sep 13, 2022
Sep 20, 2022
Sep 27, 2022
Oct 04, 2022
Oct 11, 2022
Oct 18, 2022
Oct 25, 2022
Nov 01, 2022
Nov 08, 2022
Nov 15, 2022
Nov 22, 2022
Nov 29, 2022
Dec 06, 2022
Dec 13, 2022
Dec 20, 2022
Dec 27, 2022
Jan 03, 2023
Jan 10, 2023
Jan 17, 2023
Jan 24, 2023
Jan 31, 2023
Feb 07, 2023
Feb 14, 2023
When
Tuesday - Sunday, 10:00am–6:00pm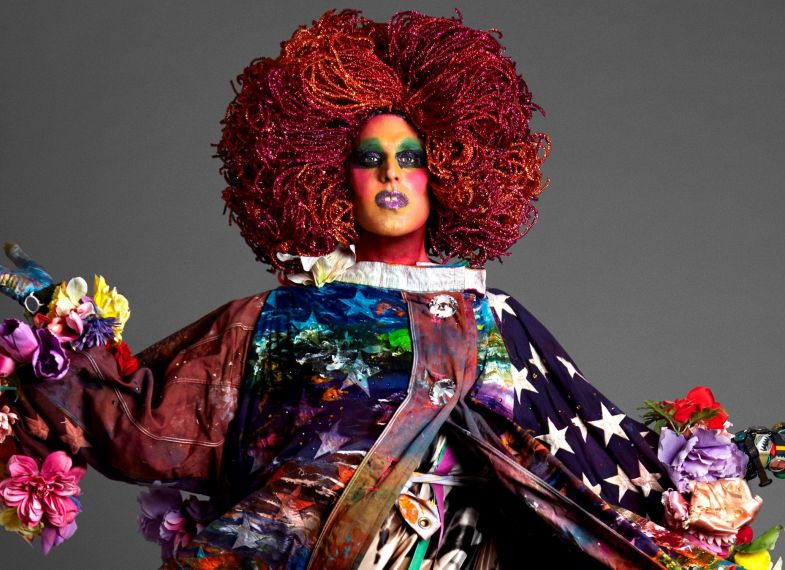 Queer Maximalism x Machine Dazzle is the first solo exhibition dedicated to the genre-defying artist Matthew Flower (US, b. 1972), better known as Machine Dazzle. A provocateur commanding an expanding repertoire of stagecraft, design, performance, and music, Machine Dazzle is a virtuoso practitioner of queer maximalism's aesthetic language of gay liberation.
The exhibition brings together more than 80 of the artist's creations for stage, spectacles, and street theater, alongside a variety of environments, ephemera, material samples, photography, and video. Together they chronicle the metamorphosis of Flower, a closeted suburban kid from Upper Darby, Pennsylvania, into "Machine Dazzle," the queer experimental theater genius.
On view will be both Machine Dazzle's famous collaborations with drag and performance luminaries such as the Dazzle Dancers and Mx Justin Vivian Bond, among others, as well as the artist's recent emergence from behind the scenes to center stage of his own artistic life. Installed on two floors of the Museum, the multimedia exhibition also includes the first public installation of the more than two dozen tour-de-force costumes created by the artist for himself and his long-time collaborator, Taylor Mac, to wear in the queer performance art concert production, Taylor Mac's A 24-Decade History of Popular Music (2016), a finalist for the Pulitzer Prize in Drama.
Excessive in scale, color, surface, texture, and movement, Machine Dazzle's living sculptures constantly transform as the designer combines the familiar embellishments of drag and burlesque, such as sequins, glitter, and feathers, beads, with found fantastical and found objects, such as ping pong balls, hoop skirts, slinkies, soup cans, and more, to build and deepen the work's narrative intent. The result is an explosive "queer maximalism" aesthetic that joyfully counters the prejudices of high culture regarding extravagance and the overly decorated and embraces these associations as queer for affirming hybridity over purity, rejecting cultural hierarchies, and valuing different kinds of bodies.
Image: Machine Dazzle photographed by Gregory Kramer, 2019.