District News
Where to Grab a Slice or Pie in Lincoln Square
Jul 20, 2021
New York City is known for its pizza, and Lincoln Square is home to eateries that serve pretty great slices! Next time you're craving a slice or pie, check out one of the delicious options below.
Noi Due Pizza (143 West 69th Street at Broadway) is a new addition to the long-standing Noi Due restaurants, located in the old Noi Due Café (now at 491 Columbus Avenue at West 84th Street). Noi Due Pizza is kosher and serves both round and grandma style pizzas. Round pizzas come in individual, medium and large sizes while grandma pies are served in a large size only. If you're only looking for a snack to tide yourself over, you can pick up a slice of either! Click here to view their menu.
Café Fiorello (1900 Broadway at West 64th Street) serves a wide array of pizzas. Order classics like margherita or meat lovers, or try something new like their smoked salmon pie with black caviar, crème fraiche and red onion or their short rib meatball pie with aged provolone and burrata mozzarella. You can also order any of their pies with gluten-free crust! View their menu here.
Are you going out for drinks and small plates with your friends, significant other or coworkers? Visit The Empire Rooftop (44 West 63rd Street between Broadway and Columbus Avenue) and order their classic margherita flatbread or try something special with their maitake mushroom flatbread with asiago, marjoram and white truffle oil. Check out options here.
Additionally, get a bottle of wine and a flatbread at Vanguard Wine Bar (189 Amsterdam Avenue at West 69th Street). Savory combinations include goat cheese, and onion and baked camembert and apricot preserve. View them all here.
Ascent Lounge (10 Columbus Circle) offers a special kale pesto and mushroom pizza. Try it out with one of their seasonal cocktails!
Breads Bakery (1890 Broadway at West 63rd Street) offers assorted foccaccia slices and loaves.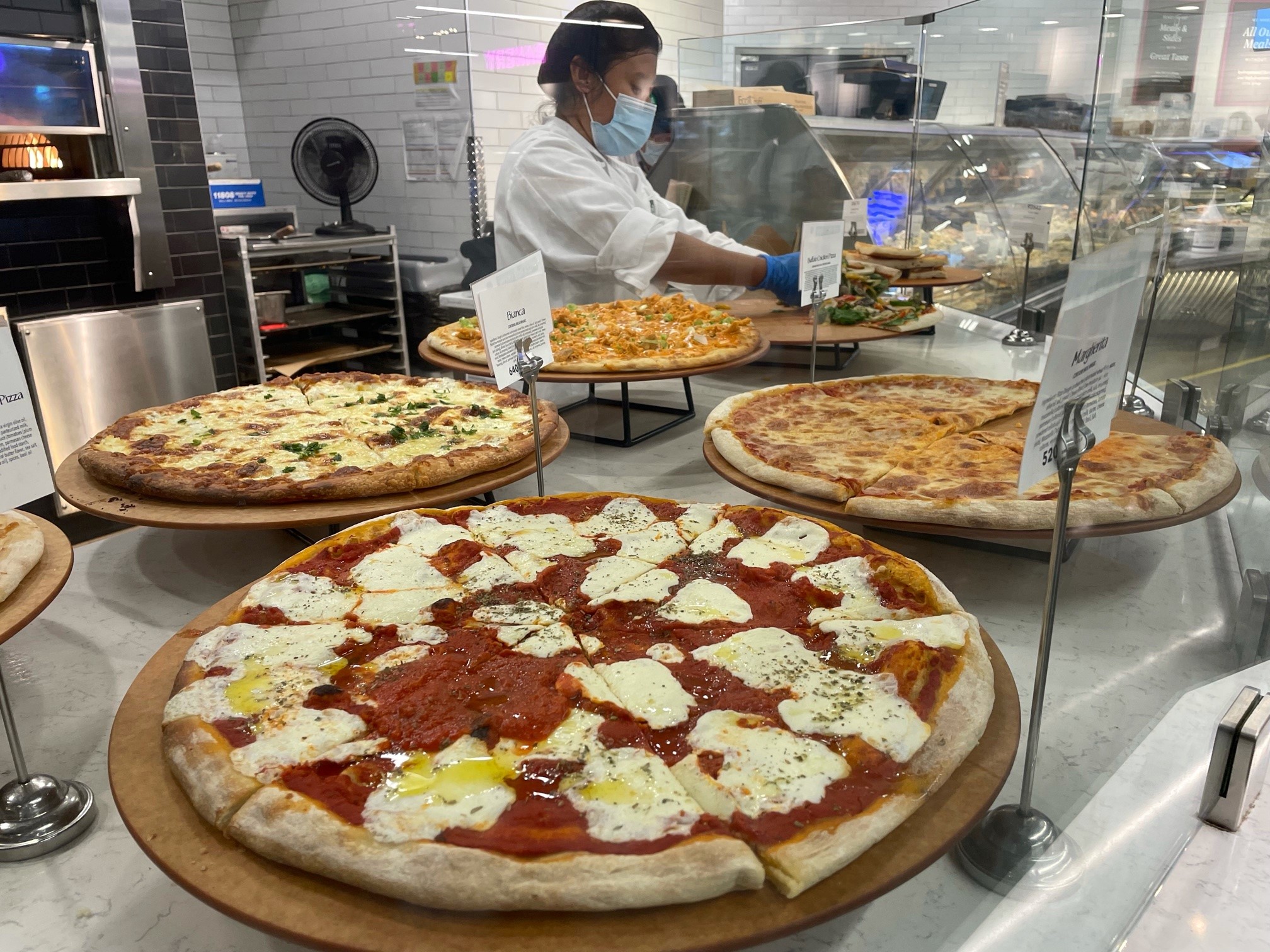 Whole Foods Market in The Shops at Columbus Circle (10 Columbus Circle) serves pizzas by the slice or pie in their prepared food section – perfect and easy to grab for your lunch break! Looking to take a pie home? Grab a frozen pizza from Whole Foods or Gourmet Garage (155 West 66th Street at Broadway).
And just steps outside of the district, grab a slice or pie from La Traviata Pizza (101 West 68th Street at Columbus Avenue) and Francesco's Pizza (186 Columbus Avenue at West 68th Street).
Don't forget to visit our Neighborhood Guide to find more eateries open in Lincoln Square.
Photo credit (top to bottom): Noi Due Pizza, Cafe Fiorello, BID Staff