District News
Spring Styles for Men
Apr 6, 2021

Whether you are preparing to return to the office or just want to refresh your wardrobe for spring, men can find everything they need to build a stylish and comfortable wardrobe in Lincoln Square.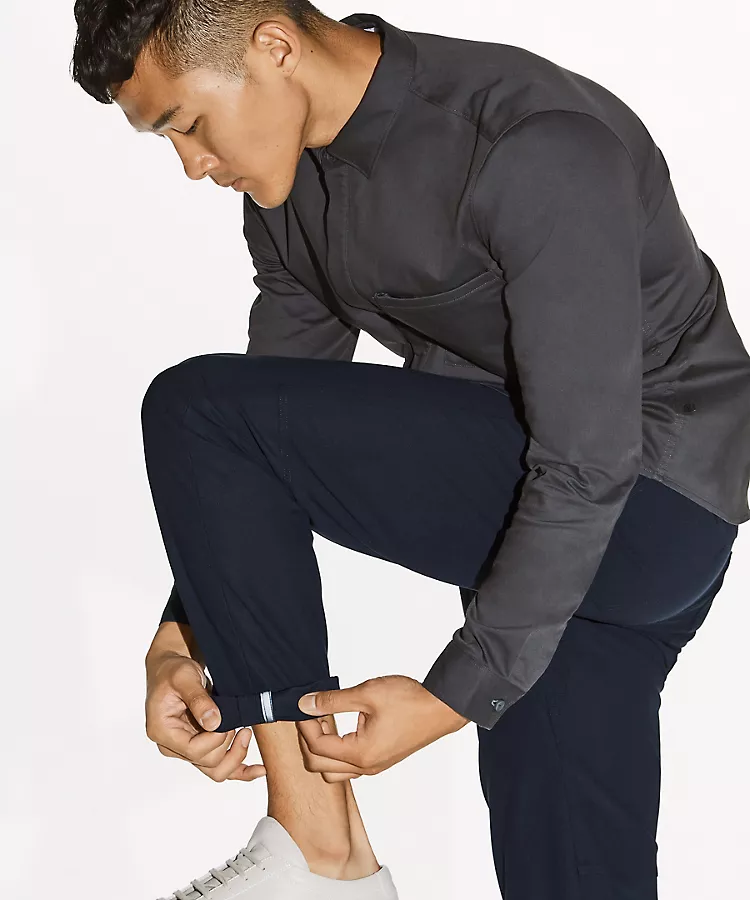 lululemon: If you've been wearing sweatpants for the past year while working from home, you many need to ease yourself back into business casual. The ABC pants from lululemon were a perennial favorite for professionals seeking both comfort and style, even before the pandemic. With a variety of cuts and colors to fit your taste, these pants give you all of the comfort and mobility of leisurewear without sacrificing a polished, professional finish. Grab a pair at one of the two lululemon locations in Lincoln Square at 1928 Broadway at 64th Street or at The Shops at Columbus Circle at 10 Columbus Circle.
J.Crew Men's Shop: The Men's Shop always has the full range of shirting, whether you want to keep it casual with a soft polo or go for a more polished look with their line of dress shirts. Adding a blazer is a great way to deal with fluctuating spring temperatures and look professional. However you choose to dress, J.Crew Men's Shop has all you need to layer up and look your best for spring. Visit their store on the second floor of The Shops at Columbus Circle.
Ted Baker London: Whether you need casualwear or workwear, Ted Baker London has classic styles with a modern touch with their signature tailoring. A seersucker blazer adds a nice finish to your office attire while also being light enough to wear in warmer weather. Find what you need at their location in The Shops at Columbus Circle at 10 Columbus Circle.
Robert Graham: Bring some spring colors into your business casual with sport shirts and sport coats from Robert Graham. They also have jeans and t-shirts for those of you still keeping it casual and working from home. Grab what you need at their location at The Shops at Columbus Circle at 10 Columbus Circle.
Zara: Whether you're working from home or heading back to work, Zara offers the latest trends without breaking the bank. From leisurewear to suits, you'll find everything you need at Zara. Check out their Spring Must Haves, including lots of options for sweatpants if you can still get away with wearing them while you work. Visit Zara at 1963 Broadway between 66th and 67th Streets.
Gap: Spring is here so it's time to put away the sweaters and pull out the t-shirts. Gap has everything you need to take advantage of those longer days and warmer weather, including bathing suits. Stock up on shorts and t-shirts at Gap at 1988 Broadway between 67th and 68th Streets.
Nordstrom: Once you've got your wardrobe pulled together, you can add in some more luxurious pieces from Nordstrom, just south of the Lincoln Square BID. If you're looking for comfortable dress shoes, you can't beat a pair of classic loafers. Or if sneakers are more your style, be sure to check their sneaker release calendar for the latest and greatest from your favorite brands. Visit the Nordstrom Men's Store at 235 West 57th Street on Broadway.
Lincoln Square also has plenty of great options for women's apparel. Check out our most recent story on where to get sneakers for women in Lincoln Square here and an article about spring style here.
This is not an exhaustive list of where to shop in Lincoln Square. To see our list of where to shop in Lincoln Square, visit our Neighborhood Guide.
Main photo credit: Zara
Article photos: lululemon, Ted Baker London, Gap