District News
COVID-19 Regulations Update for Early Spring
Mar 16, 2021
Over the last week, the State Legislature and the Governor made changes to regulations related to the COVID-19 vaccine, indoor dining, and quarantine requirements.
The New York State Legislature recently passed a law mandating that employers give their employees time off to receive the COVID-19 vaccine. Employees will receive up to four hours of excused leave per injection. This time off may not be charged against any other leave granted or accrued to employees. According to the press release from the Governor, the legislation became effective immediately upon its signature on Friday, March 12.
Beginning Friday, March 19, indoor dining in New York City will be allowed at 50% capacity, up from the current 35% capacity limit. The press release from Governor Cuomo states that, following two incubation periods for COVID-19 since indoor dining resumed on Friday, February 12, indoor dining has not led to an increase in rates of spread of COVID-19 or rates of hospitalization. Indoor dining in the rest of New York State will increase to 75% from 50% capacity and New Jersey will increase indoor dining capacity to 50% from 35%.
Starting Thursday, April 1, travelers coming to New York from other US States or Territories will no longer be required to quarantine. According to a press release from the Governor, all travelers coming to New York will still be required to fill out a Traveler Health Form. Quarantine is still mandatory for international travelers and the New York State Department of Health recommends quarantining as an added precaution for domestic travelers. If domestic travelers develop any symptoms of COVID-19, they must immediately self-isolate and contact either local health authorities or their primary care provider.
Travelers to New York must still take other steps to prevent the spread of COVID-19, such as wearing a mask, washing hands frequently, and practicing social distancing. All individuals exposed to COVID-19, regardless of recent travel, should monitor for symptoms for 14 days; wear a mask and wash hands, even if fully vaccinated; and self-isolate if they develop symptoms.
As we continue to monitor changes to COVID-related guidelines and reopening regulations, we will do our best to disseminate useful information. See below for an info graphic from NYC Citywide Event Coordination and Management (CECM) of the re-opening guidance dates between February and April so far. Click here to view a PDF of NYC CECM's newsletter containing this and other information.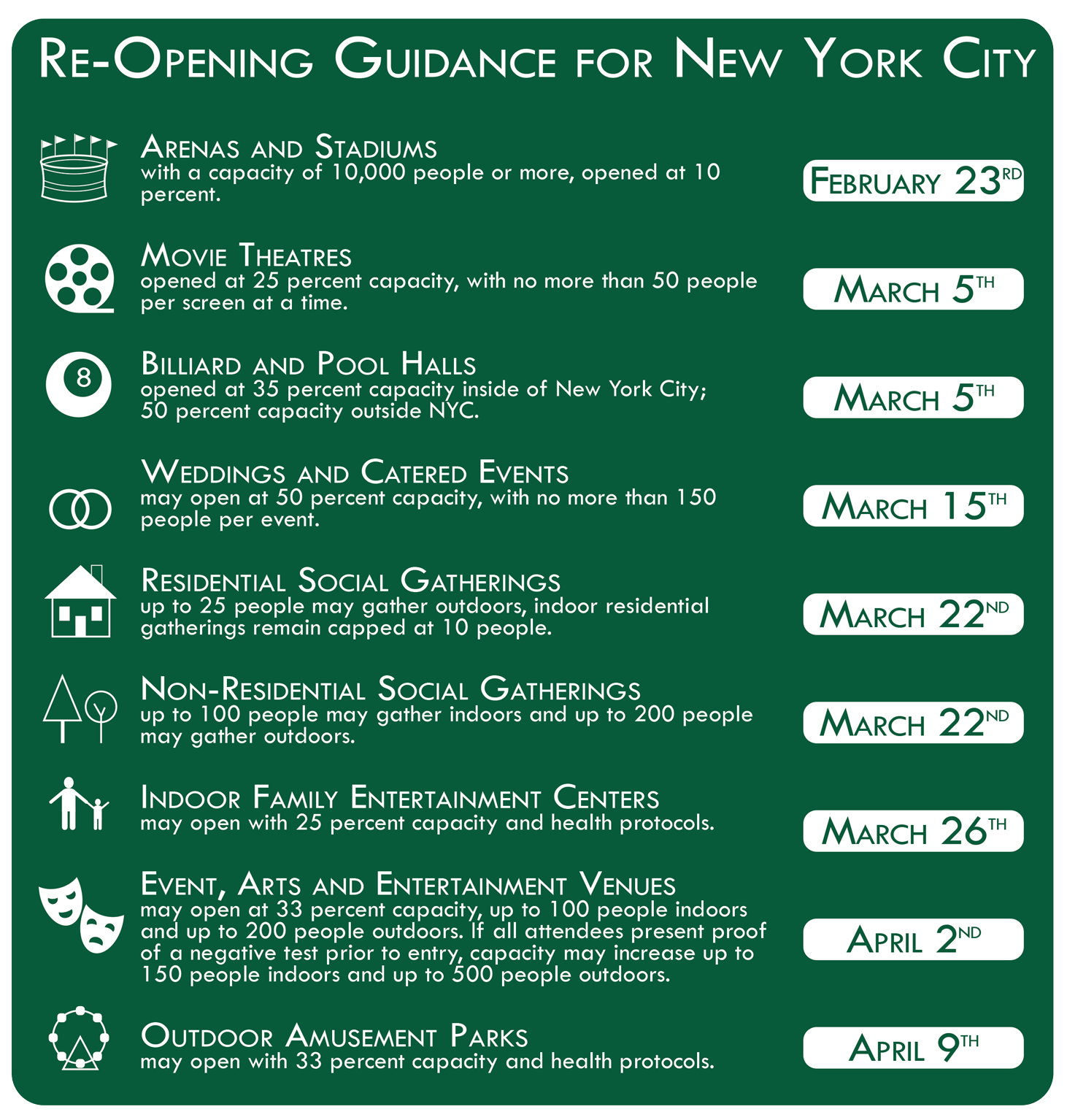 Please do your part to prevent the spread of COVID-19 by practicing the core four: stay home if you are sick, wash your hands often, wear a mask, and stay six feet apart from others. Additionally, you should get tested for COVID-19 often and get the vaccine if you are eligible.
Photo credit: NY Restaurant Guide / Cafe Fiorello