District News
Lincoln Square in Motion: SVK Food Hall, P.J. Clarke's & Boulud Sud
Sep 14, 2021
There is energy in the air in Lincoln Square! As we head into fall, we welcome back the hustle and bustle of a busy neighborhood with students returning to campus, Lincoln Center's reopening, Deutsche Bank welcoming its employees to its new home, and more. This September, we are pleased that some of our businesses that have been closed for months are reopening as neighborhood activity increases!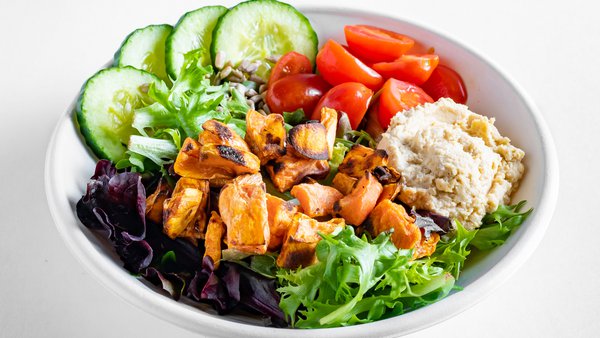 Over the past year and a half of being closed, BONMi at Fordham University (150 West 62nd Street between Columbus and Amsterdam Avenues) got a makeover and has reopened as SVK Food Hall. SVK, which stands for Sous Vide Kitchen, offers diners the opportunity to select from three fast casual concepts. Try Vietnamese fare from BONMi, vegetarian dishes from Veg 23 (Sweet Potato Herb Salad pictured left) or BBQ favorites from Pulled & Chopped. Sous Vide, French for "under-vacuum," is a cooking technique in which food is vacuum-sealed and slow-cooked in water at precise temperatures, which seals in moisture and makes the food more flavorful and tender. SVK Food Hall is open for dine-in, takeout and delivery Monday through Friday from 11:00am – 10:00pm, Saturday from 12:00pm – 9:00pm and Sunday from 12:00pm – 8:00pm.
After temporarily closing last winter, P.J. Clarke's (44 West 63rd Street at Columbus Avenue) is reopening this Thursday, September 16! P.J. Clarke's will be open from 12:00pm – 9:00pm, Thursday through Sunday. We're sure everyone has missed their sliders (pictured above)!
Boulud Sud (20 West 64th Street between Broadway and Central Park West) is reopening on Wednesday, September 22 – the first time since closing at the beginning of the pandemic. Enjoy Chef Daniel Boulud's vibrant take on Mediterranean cuisine. Boulud Sud will be open for indoor dining from Wednesday through Sunday. Their hours on Wednesday, Thursday and Sunday are 5:00pm – 9:30pm, and on Friday and Saturday, 5:00pm – 10:00pm. Click here to make a reservation.
And rumor has it that Chef Michael Lomonaco plans to reopen Center Bar at The Shops at Columbus Circle (10 Columbus Circle) soon!
We are so excited to have these neighborhood favorites back open. To find more places open in Lincoln Square, visit our Neighborhood Guide. Also, as an important reminder to our businesses, enforcement to the Key to NYC program has gone into effect.
Main photo credit: PJ Clarke's
Article photo credit: SVK Food Hall, Boulud Sud