District News
Fashionable & Functional: Women's Sneakers & More for Spring
Apr 6, 2021
Now that it's spring, the weather is warming up and inspiring us to get outside again. Enjoy the latest spring styles for women in comfortable shoes from Lincoln Square's stores and also treat yourself to some helpful and stylish accessories for your walk, like sunglasses, backpacks, and waist packs.
Inside of The Shops at Columbus Circle (10 Columbus Circle), check out the following stores:
Coach: Sneakers at Coach are spring-ready, with pastel colors, floral designs, and more. Pick out a pair with the classic Coach logo design to match a purse or choose a low-top sneaker with a mix of woven raffia and smooth leather. Click here to browse women's sneakers. Also, add an easy-to-carry bag to your collection from Coach to tote your daily essentials. Coach has a selection of belt bags (aka chic fanny packs) that are in-style this spring as well as stylish backpacks. Plus, sunglasses to complete the look for your walk to work or your walk in the park.
Cole Haan: From slip-ons to comfortable trainers, Cole Haan's selection of women's sneakers has something for everyone. For versatile sneakers, check out some all-terrain styles or to make a statement, pick out court style sneakers with accent animal print patterns. Click here to browse Cole Haan's sneaker options for women. You can also pick out a pair of sunglasses and find stylish backpacks, including drawstring backpacks and backpacks with straps that change the bag into a crossbody or tote bag.
Eileen Fisher: Shop simple and sustainable sneaker options this spring at Eileen Fisher. Buy a pair of white recycled knit wedge sneakers, versatile and easy to style, or other leather sneaker options in classic black and white options. Click here to view shoes at Eileen Fisher.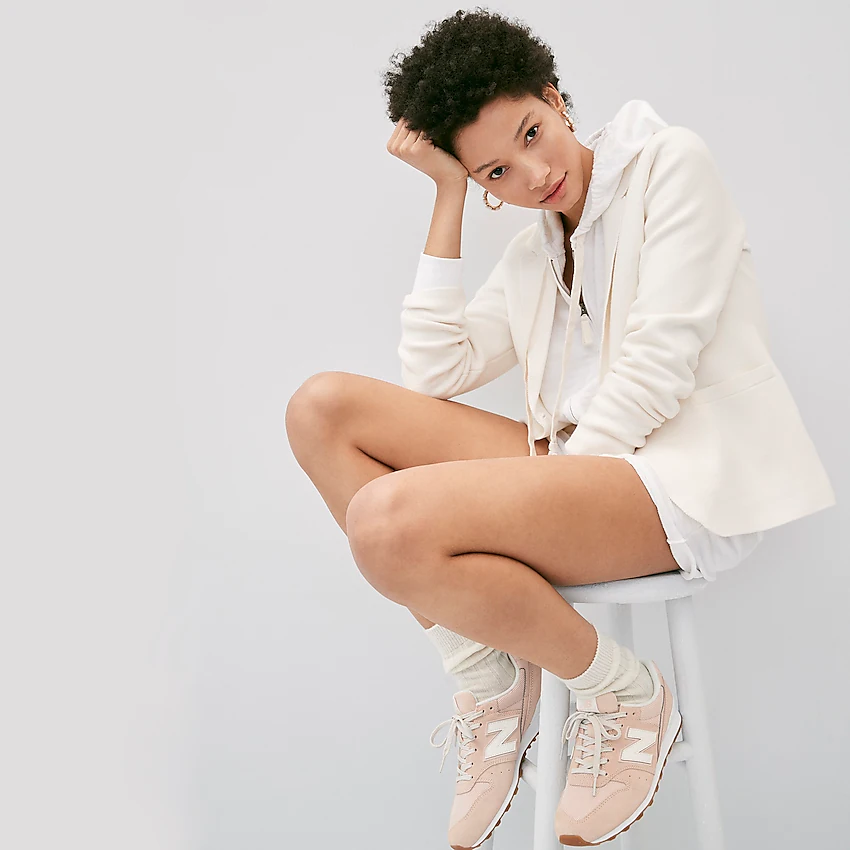 J.Crew: J.Crew has partnered with brands like New Balance and Gola to bring special edition sneakers to their shelves for spring, in addition to other styles and brands. Try a pair of pink Reebok sneakers, some vintage champion sneakers from Keds, or J.Crew's classic Saturday sneaker styles. Click here to browse sneaker options for women. You can also find a variety of sunglasses with patterned frames, oversized frame options, and colorful tinted lenses. Click here to browse bold sunglasses options for spring.
Michael Kors: Find on-trend sneakers for spring at Michael Kors, with options ranging from chunky trainers to sock sneakers and slip-ons. There are many options in spring colors, such as pink, blue, and beige, as well as a number of black and white or animal print styles. You'll find a design to match any outfit for your long walks. Click here to browse women's sneakers at Michael Kors. Plus, belt bags and backpacks will complete your look, with convertible bag options and tons of color choices for a number of styles. Click here to view belt bag and backpacks.
New York Running Company by Jackrabbit: Walk or run to the office or the waterfront in a pair of sneakers from New York Running Company by Jackrabbit. This store carries the latest styles from brands like Puma, Saucony, and more, in a variety of options. Pick out a casual pair of sneakers, walking shoes from New Balance, or nitro running sneakers from Nike. Click here to browse sneakers, which you can filter by brand and occasion. In-store, sales associates can help you find the right sneaker fit with fitting and gait analysis.
Stuart Weitzman: Sleek sneakers are in-style at Stuart Weitzman. Shop high-tops, runners, and slip-on options in pink cheetah print, leather and mesh combos, and cotton canvas with heart patterns. Click here to browse what's in for spring.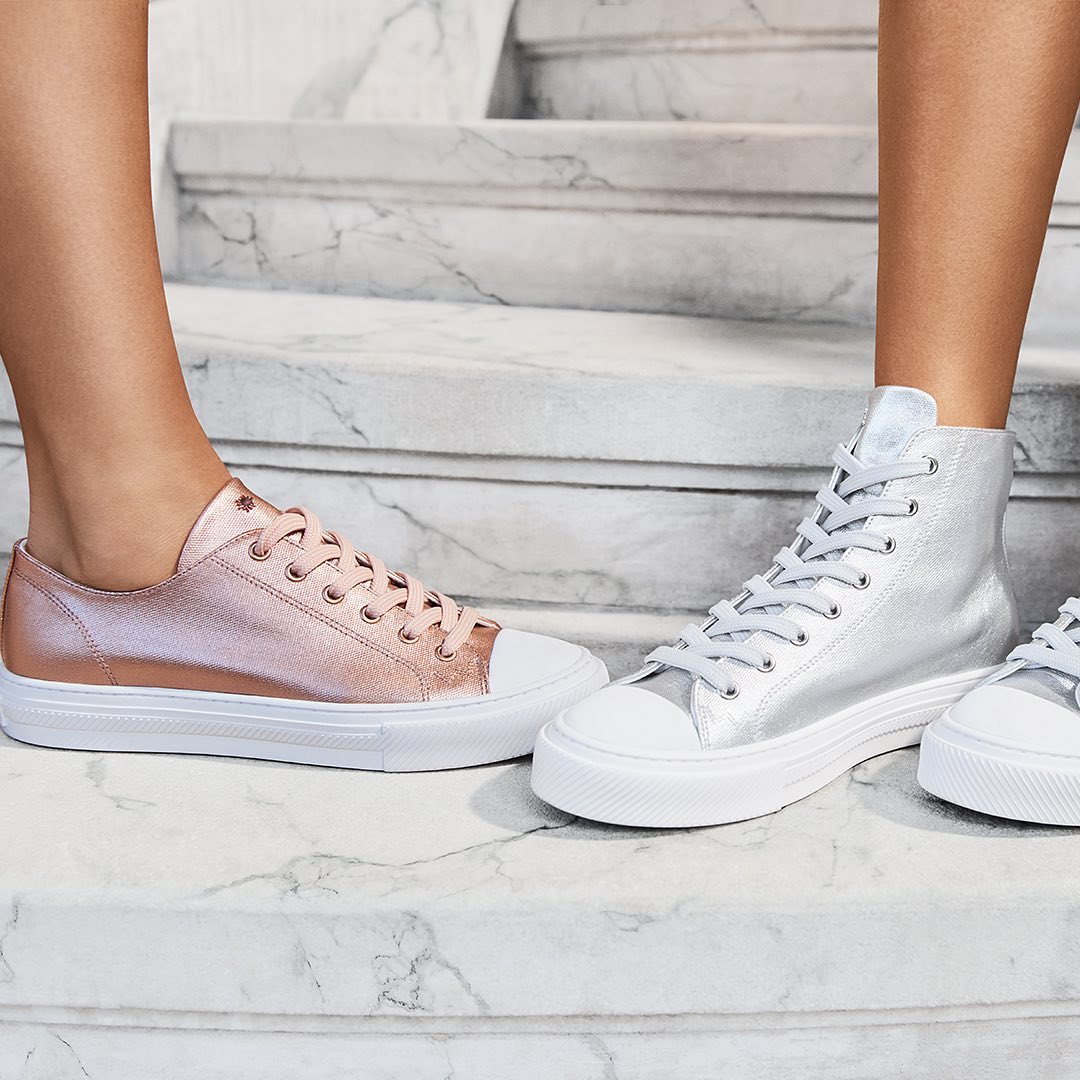 Ted Baker London: This spring, enjoy casual sneakers from Ted Baker with fun feminine elements like scalloped edges, floral accents, and pastel colors. Try a pair of leather trainers with a pink floral stripe or some white platform trainers with a metallic stripe. Click here to browse trendy sneaker options for women.
Of course, don't miss the opportunity to shop luxury sunglasses at Morgenthal Frederics or Solstice Sunglasses, which can be fitted for prescription lenses. Shop the latest styles to pull your outfit together and enjoy the sun on your walk with on-trend eyewear. Click here to browse sunglasses from Morgenthal Frederics and click here to browse sunglasses from Solstice.
Also in Lincoln Square, head to the following stores for more shopping:
Banana Republic (1976 Broadway at West 67th Street): Find some fashionable sneakers that will complete a comfortable spring outfit this season. Pick out a low-top sneaker in grey plaid, a white high-top sneaker, or trainers with snake skin detailing. Click here to view a few options.
J.Jill (170 Columbus Avenue at West 67th Street): Pink is in at J.Jill, with sneaker options to slip on or lace up in this fun spring color. There are also options in navy, black, and white, with a pair of mesh sneakers that will transition great for hot summer days and styles for casual spring looks. Click here to view sneaker options.
Target (1863 Broadway at 61st Street): Target's sneaker selection for women offers some affordable options for simple seasonal styles. Pick out a pair of running shoes from brands like Sketchers, more stylish options like metallic high-tops or wedge heeled, or simple canvas sneakers. Click here to browse women's sneakers at Target. Target also sells options for sunglasses and backpacks to tote your belongings in style, including floral print, drawstring, and convertible backpacks.
Zara (1963 Broadway at West 67th Street): Zara offers a handful of sneaker options to complete a casual look, effortlessly. Pick up a pair of trendy thick-soled sneakers, a pair of trainers with a decorative gold chain detail, or basic white sneakers. Click here to browse sneakers at Zara.
Also, south of the district, Nordstrom (225 West 57th Street at Broadway) sells women's sneakers for all occasions with the latest styles from well-known brands. Click here to check out sneakers at Nordstrom.
This is not an exhaustive shopping list for women's fashion in Lincoln Square. Visit our Neighborhood Guide to find more shopping options in the neighborhood. Also, check out this spring style article for comfortable men and women's clothing, much of which can easily transition to office wear or this article about men's fashion in the district.
Main photo credit: Cole Haan
Article photos: J.Crew, Stuart Weitzman, Ted Baker London