Entertainment
Jazz in Times Square
Jazz at Lincoln Center & Times Square Alliance
Broadway Plaza between 43rd and 44th Streets
New York, NY 10036
http://www.timessquarenyc.org/tsqnyc/jazz-in-times-square
Price
Free
Event Dates
Jul 22, 2021
Jul 29, 2021
Aug 05, 2021
Aug 12, 2021
Aug 19, 2021
Aug 26, 2021
Sep 02, 2021
Sep 09, 2021
Sep 16, 2021
Sep 23, 2021
Sep 30, 2021
When
6:00pm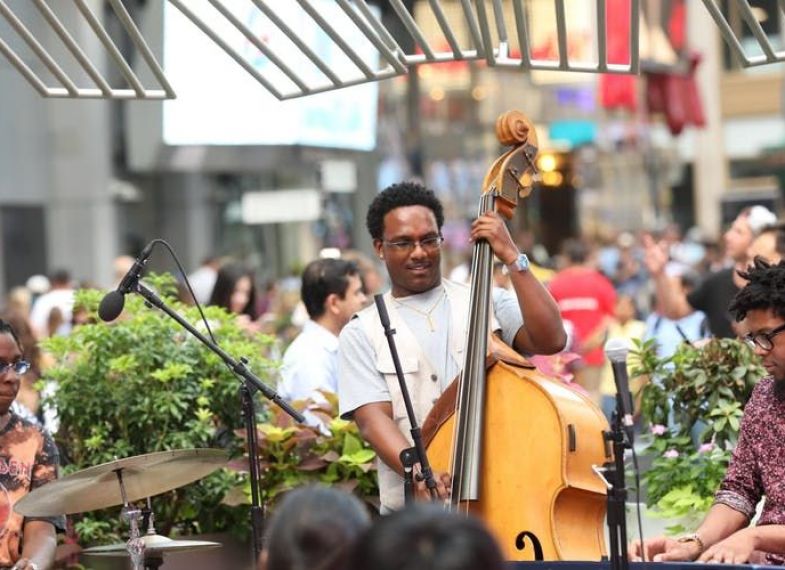 Thursdays at 6pm, July 8 – September 30, 2021
Broadway Plaza between 43rd and 44th Streets
Give your Thursday night a new rhythm. Jazz at Lincoln Center joins us outside again this summer to bring New York City's hottest young jazz bands to the plaza, creating the feeling of an intimate club amidst the lights and sounds of Times Square.
Check out the July and August performance schedule below! You can also follow us on Facebook, Instagram, and Twitter, and sign up for our mailing list to stay up to date on future Jazz in Times Square announcements and other news from Times Square.
Can't make it in person? You can watch live each week on Youtube.
2021 SCHEDULE
July 8
Etienne Charles Quartet - POSTPONED DUE TO INCLEMENT WEATHER
July 15
Vanisha Gould Trio
July 22
Ashley Pezzotti
July 29
Corcoran Holt Trio
August 5
Luther S. Allison Trio
August 12
Willerm Delisfort Duo
August 19
Sarah Hanahan Trio
August 26
Zaccai Curtis Trio
More to come!